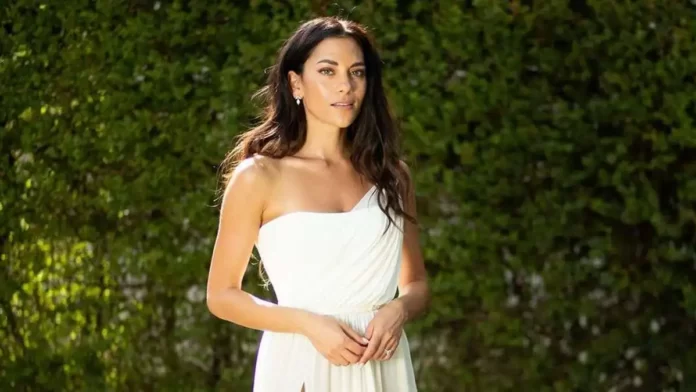 Inbar Lavi is a 36-year-old Israeli-American Actress famous for her roles in 'Sons of Anarchy' and 'Lucifer'. She is originally from Ramat Gan, Israel, and started her Hollywood career in 2009. Born with asthma, She spent most of her childhood time watching movies and from here her love for cinema originated.
Inbar has a very defined cinema journey, starting from guest appearances to having her own feature films, she has left her mark in every genre with her profound acting skills. The very meaning of her name "amber" reflects in her work. She is not only an actress but also a songwriter, a singer, and an entrepreneur.
Inbar Lavi Facts
| | |
| --- | --- |
| Birth Place | Ramat Gan, Israel |
| Nationality | Israel |
| Birth Date | October 27, 1986 |
| Age | 36 Years |
| Husband | Dan Bar Shira |
| Children | None |
| Net Worth (2023) | $3 Million |
| Occupation | Actress, Businesswoman |
| College | Lee Strasberg Theatre and Film Institute |
| Height | 5 ft 3 inch |
| Weight | 54 kg |
| Star Sign | Scorpio |
Inbar Lavi's Early Life
Inbar comes from an Israeli family based out of Holon, but she was raised in Ramat Gan, Israel. Lavi claims that she fell in love with movies after watching Natalie Portman in 'Léon: The Professional'. She said Natalie's performance inspired her to be an actress. Israeli entertainer Ayelet Zurer is one of her favorite role models.
Lavi studied ballet and modern dance at the Kiryat Sharet high school in Holon, Israel. She then studied acting at the Sophie Moskowitz School of Acting in Tel Aviv, Israel.
Lavi was always fond of dancing and as she grew she pursued ballet and modern dance at the Kiryat Sharet high school in Holon, Israel. After this, she moved to Tel Aviv to focus more on her acting at the Sophie Moskowitz School of Acting.
Inbar's Acting career
Inbar Lavi started acting by screening for different off-Broadway creations when she moved to New York City in 2004. She was just 17 years of age at that time. A year later, she shifted to Los Angeles, nicknamed the "Mecca of filmmaking." Here she was acknowledged for her skills and received a full grant from the Lee Strasberg Theater and Film Organization.
One of her first major roles was in 'Cordelia' in 2006, produced by King Lear and directed by Tom Badal. As aforementioned, the year 2009 was when she started working on network shows making appearances in big productions. Some of her major works include 'Ghost Whisperer,' 'Criminal Minds,' 'CSI: Miami,' and 'In Plain Sight'.
Lavi has also appeared in films including 'Tales of an Ancient Empire' (2010), 'Street Kings 2: Motor City' (2011), and 'House of Dust' (2013). In the year 2014, she landed a role portraying Raviva, a pregnant aspiring singer in the 2014 MTV series titled 'Underemployed'. After that, she was cast as Veronica "Vee" Dotson in the series 'Gang Related' produced by Fox television.
Her preferred genres are action, thriller, fantasy fiction, and drama. From a Machiavellian con artist to an expert in camouflage, from a profoundly trained soldier to playing middle-eastern activist in shows like 'Imposters,' 'The Last Ship,' and Fox's original 'Prison Break,' she gained a lot of fame in the cinema world. Her latest appearances were in Netflix Originals 'Lucifer' where she played the character of Eve and, cameos in shows 'Stumptown' and 'Eight Gifts of Hanukkah'.
Family And Relationships
Inbar comes from an Israeli family. Her family was based out of Holon, Israel. Both her parents are also Israeli citizens but they come from different ethnicities. Inbar's mother descends from the Morrocon ethnic group while her father comes from Polish roots.
As for her dating life, the actress has been in more than one relationship but her most famous relationship was with American actor Christoph Sanders. The couple dated for five years between 2011 and 2015.
Meet Inbar Lavi's Husband, Dan Bar Shira
Inbar married Dan Bar Shira on the 13th of September, 2021 on the sandy, enchanting beaches of Israel. She met her husband at the Burning Man Festival in August 2019. Dan works in the green energy sector and is in a management position at his company. There is not much information about the company though. The couple tied the knot in an ethnic Israeli wedding, as they were immensely inspired by their Mediterranean roots.
Inbar Lavi House
Both Lavi and her husband, Dan Bar Shira, live in Los Angeles. The couple moved in together after their marriage in September 2021. There is not much information available about the size of the house as the couple leads a very private life. The couple also has a house back in their home country, Israel.
Inbar Lavi Net Worth
As of 2023, Inbar Lavi is worth approximately $3 million dollars. Her major earnings include paychecks from her film and tv projects, endorsement, and sponsorship money. Lavi has also invested in some businesses and controls a diverse portfolio.
FAQs About Inbar Lavi
Is Inbar Lavi married?
Yes, she is married to Dan Bar Shira, an Israeli green energy-based professional.
Is Inbar Lavi a singer?
Yes, she is a singer, actor, and businesswoman.
What movies is Inbar Lavi in?
Her most famous movies are 'House of Dust' and 'Sorry for Your Loss'.
Where does Inbar Lavi live now?
She currently lives in Los Angeles.
Also Read: The Rings Of Power: How Was Numenor Destroyed? Did Anyone Survive?