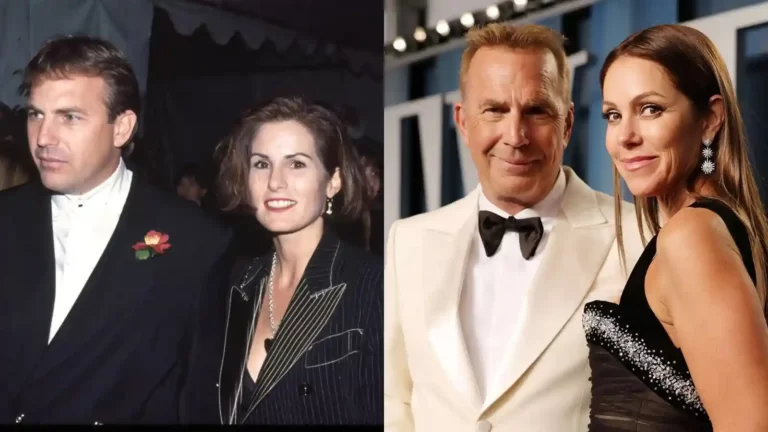 Not always the same love knocks on your door twice. Kevin Costner is not only recognized for his multi-talents but also for his marriages, affairs, and divorces.
Despite all of his marriages, affairs, and divorces, he fell in love with the same lady twice and ended up marrying her. But the 18 years of marriage is going to end in divorce soon. Continue reading to know more about Kevin Costner's marriage, affairs, and divorces.
Kevin Costner Marriages And Affairs
Cindy Silva
Kevin Costner was initially married to Cindy Silva. This pair met each other during their college in 1975. They were in a relationship from 1978 to 1994. They were married for 16 years. Via his first marriage, he had three children.
The duo had their first child daughter, named Lily who was born on August 1986, and their second child, daughter Annie who was born on April 1984, and their third child, son Joe who was born on January 1988.
After they called it quits, he told The Hollywood Reporter in 2012 that, "My faith was shaken. No one wants their marriage to end, and it did. You are going to see the people you love most, your children, only half as much. That's a huge loss."
Bridget Rooney
Later, in 1995, Kevin Costner started dating Bridget Rooney. The pair welcomed their first son Liam in November 1996. Eventually, they called it quits in 1998.
Also Read: Who Is Playing Superman In Upcoming James Gunn's Superman: Legacy?
Christine Baumgartner And Kevin Costner
Kevin and Christine met each other at a golf course in 1990 when he was still married to Silva. It was not well known but it was rumoured that they had an affair.
After his divorce from Rooney, in 1995, he again met Christine and eventually, they started dating. After being in a relationship for four years, they called it quits in 2003 as they were not on the same page in wanting kids.
In an interview with Parade in 2012, Kevin said about his time during their breakup in 2003, "She said, 'I'm going to wait for you, but not long. When you come to your senses, come back to me.' And I did."
Later, the pair gave their love another chance and got hitched in 2004 in Aspen, Colorado.
"Fear kept me from marrying Christine. [She] wanted a child, but I was afraid I couldn't be an effective father," Costner told Closer Weekly in June 2018 and added, "I woke up and thought, 'Am I going to lose a beautiful woman who is willing to be with me to my very last breath because I am afraid to say yes to a child? That's all it took. Sometimes you learn the thing you're most afraid of will save your life."
As per the wish of Christine, the pair welcomed their first child, son Cayden in May 2007 and their second son Hayes, in February 2009, and their daughter, Grace, in 2010.
During the pandemic in 2020, the couple seems to grow stronger than before. But Christine filed for divorce in Santa Barbara in May 2023. They were married for 18 years. The reason why it might be because of the tight schedule of Kevin, per Us Weekly.
Read More: All 9 Villain That Will Appear In Sony's Spider Man 2 Game