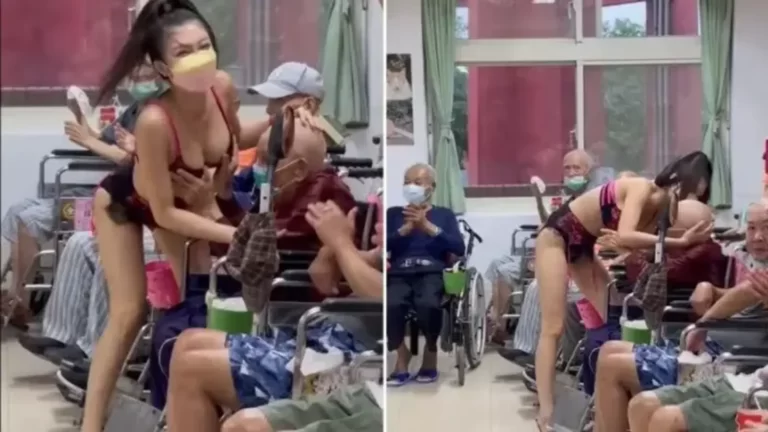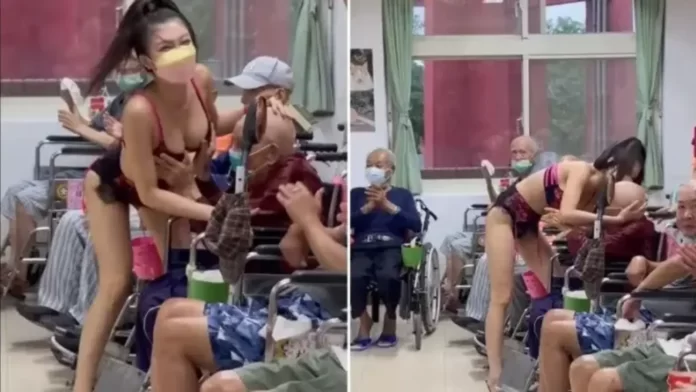 A nursing home (The Taoyuan Veteran Home) in Taiwan, which is a state-run facility for retired army personnel, is being criticized for hiring a stripper for their senior residents. The nursing home apologized after the serious backlash from netizens.
The incident came to the knowledge after a video of the event went viral on social media. This event was organized in the nursing home to celebrate the annual harvest festival. The incident started a debate about morality and sparked controversy among the public.
Video Shows Stripper Giving Lap Dance And Doing Inappropriate Things
A video on social media shows a stripper wearing small lingerie-like clothes and dancing in front of the senior residents of the adult care home. This happened a few days ago. The stripper started with an erotic pose while dancing and moved in a manner to entertain the viewers. Afterward, she came near an old man, sitting in a wheelchair, and then she gave him a lap dance.
Stripper shows love to senior citizens at a nursing home party and gives them lap dances… talk about getting their "hearts racing"‼️🚑pic.twitter.com/qiKda0aLcx

— Daily Loud (@DailyLoud) September 15, 2022
The old resident enjoyed this but the stripper didn't stop there, she holds his hand and gradually let him feel her body. She let the man press her breast, and after this, she kissed the head of an old man. People can be seen clapping in the video while the stripper is dancing.
The veteran care home hired the stripper to celebrate the Mid-Autumn Festival, which is an essential fest in Chinese culture. Some attendee record this and uploaded the video on social media, which went viral in no time.
Nursing Home Apologizes After Backlash
The care facility, run by the government, was pushed to apologize by the public after the incident spread across many social media platforms. The netizens found this immoral and unethical for a nursing home, which is responsible for well being of senior citizens.
After the serious criticism, the care facility issued an apology statement, "The intention of the celebration was to entertain residents and make them happy. We are very sorry for the offense."
The Reaction Of Social Media
The nursing facility apologized for the event, although the video received a mixed response from social media as many handles have praised the Taiwanese care facility for organizing this type of entertaining activity for the senior citizens of a nursing home.
Some users found this unethical but many raised the question about the immorality issue as they are okay with the event. The stripper is also praised by some Twitter handles for providing pleasure to old residents. Some of the reactions are given below:
If I die I would like it to be in this situation 🤷‍♂️

— Daily Loud (@DailyLoud) September 15, 2022
Should honor him for her contribution

— Yung Nutz (@y_nutz1) September 15, 2022
Why apologize … I'm trying to put in an application NOW to be placed in this nursing home !!!!!!

— SafeMoon Will (@williamcoe) September 15, 2022
Read More: "Torture, Sexual Abuse And Shotguns" How Menendez Brothers Committed One Of The Most Heinous Crime In America