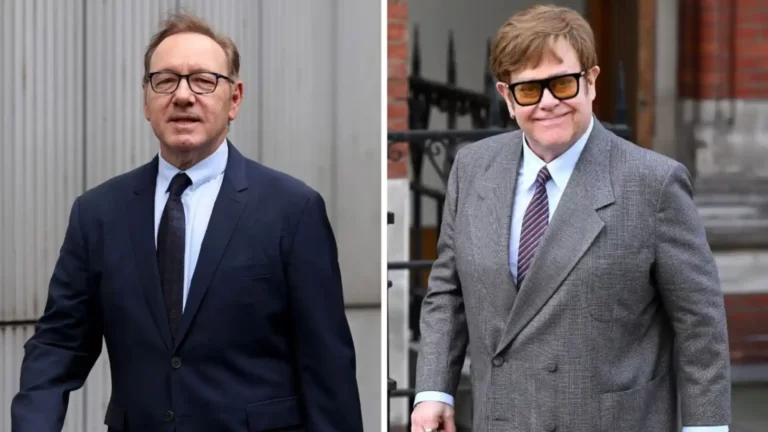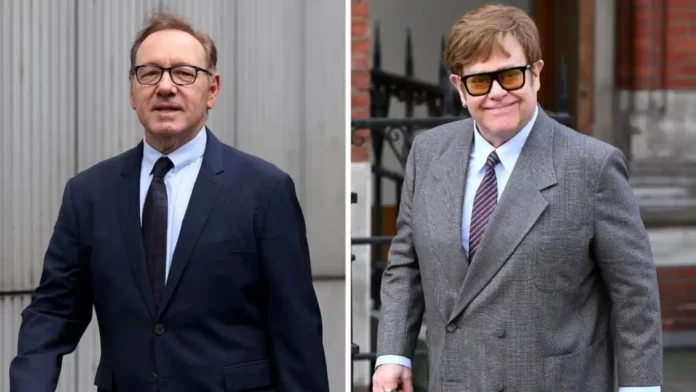 Amid the Kevin Spacey Sexual Assault Trial, British singer Sir Elton John and husband David Furnish have testified in the actor's defense.
The Oscar-winning actor is currently facing 12 sexual assault charges made by 4 alleged
victims. One of them is his driver, who claims he was inappropriately touched by the actor while driving him to the fundraising ball hosted by Elton John.
Elton John Testifies In Kevin Spacey's Support At The Trial
Elton and his husband David appeared in the London Court via video link from Monaco to
confirm the claims made by Kevin Spacey about staying at the couple's Windsor home on the night of the fundraiser gala.
Kevin's driver, one of the victims, accused him of forcefully grabbing his crotch while he was driving the actor to the gala in 2004 or 2005. To this, Spacey had testified that he had only attended the fundraiser gala in 2001.
When the couple was asked about the same, David explained that because it was a fundraiser, every guest was photographed on their arrival. Looking through the archives, they confirmed that the 'American Beauty' actor only attended the 2001 White Tie and Tiara Fundraiser event.
The prosecutor further asked, "If someone came to the ball and didn't want to be photographed, was that wish abided by?"
To this David explained, "It never happened. It was understood we were promoting a charity involving the eradication of stigma surrounding disease. For celebrities wanting to come to our event, it was always understood they needed to be photographed… Kevin Spacey was an Oscar-winning actor, there was a lot of buzz and excitement that he was at the ball."
When asked about the night of the ball, the couple confirmed that the actor stayed at their
Windsor Home after the event. Elton added, "I can't remember him coming down after that."
Also Read: Kevin Spacey Proclaims Innocence As Sexual Assault Charges Are Presented In U.K. Court
Elton Says, "I Wouldn't Notice The Queen… "
Elton was shown a photo of him which also featured one of the victims standing outside the
Victoria Palace Theatre. He was asked if he recognized the man. To this, he replied, "I'm looking straight forward at my car there. When I come out of the theatre, it's always a mad rush to get into the car. Anyone who is on my periphery, I wouldn't notice them. It could be the Queen and I wouldn't notice her."
But his husband David recalled talking to the man. He added, "He was a little bit cheeky, he always had a cheeky smile on his face. You could always engage in playful banter with him."
Read More: Philippines Grants Permission For 'Barbie' Movie Release, Dismisses China's Map As 'Cartoon-Like'