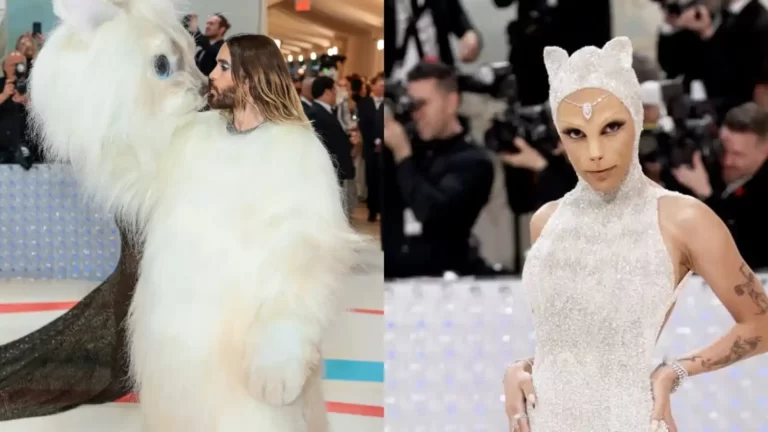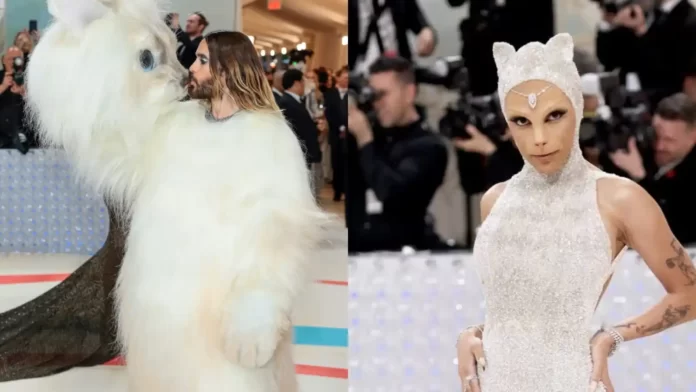 The much-anticipated event celebrating fashion, the prestigious Met Gala of 2023 took place on 1st May. The invited celebrities all turned up in their remarkable and unique ensembles making heads turn with their eye-catching looks.
But, the most incredible fashion moments of the night were the looks of Doja Cat and Jared Leto who chose to break away from conventional fashion and channel their unique looks on the Met Gala red carpet. Let's dissect the Met looks of both the stars.
What Was The Theme Of The 2023 Met Gala?
The Met Gala or Met Ball is the informal name of the official Costume Institute Gala or the Costume Institute Benefit and is an annual tradition started back in 1948 as a fundraising event to fund and profit the Metropolitan Museum of Art's Costume Institute in New York City. Since then, it has been 75 years and the grand event is held each year to this day.
DOJA CAT MEOWING AT MET GALA PLSSS pic.twitter.com/f5JE1FoVSX

— ela (@dieforyouus) May 2, 2023
The iconic event is held on the first Monday of May every year and has a unique theme that the invited attendees have to incorporate into their looks, almost like a costume show with incredible grandeur. The theme for the 2023 Met Gala was – 'Karl Lagerfeld: A Line of Beauty'.
It was personally decided upon by Vogue's Editorial Director – Anna Wintour who organizes the event for several decades now. The theme is a beautiful form of tribute to the late German fashion designer Karl Lagerfeld who died back in 2019. He was a renowned name in the global fashion industry.
With such a theme, numerous celebrities went ahead and dressed up in outfits inspired by Karl's classic designs. However, Doja Cat and Jared Leto stepped up the entire Met Gala event with their unconventional looks which is a homage to the late designer's beloved cat.
Also Read: 10 Best Dressed Female Celebrities At Met Gala 2023
Jared Leto And Doja Cat's Iconic Cat Appearances At The Met Ball
Karl Lagerfeld was a huge lover of cats. His most beloved one was a blue-eyed and cream-colored tortie Birman cat called Choupette Lagerfeld. The Met organizers even invited Choupette to walk the red carpet of the event in respect to his late owner/father.
With the professional stage name of Doja Cat, it is aptly amusing to see the phenomenal singer turn up in a literal cat-like ensemble in an act of paying tribute to Karl's cat. Doja wore an Oscar De Le Renta's sparkly silver gown with a ruffled train which accentuated the whole outfit. The dress also had matching cat ears attached to it and with facial cat prosthetics, Doja genuinely looked like a ravishing humanoid female cat. The entire look was bizarrely beautiful and eye-catching.
Jared Leto with Anne Hathaway and Salma Hayek at #MetGala pic.twitter.com/9nfs3QwpQ8

— 𝑮𝒂𝒃𝒔 🦇 (@MorbyLeto) May 2, 2023
American actor Jared Leto delivered a historical look that will be remembered for years to come by turning up as a literal cat that resembled Choupette. The entire outfit was a realistic massive catsuit. With the big blue-eyed cat head on, no one imagined it would be Jared Leto beneath the costume. Many celebrities gathered around him to get a shot with the cat-man.
Hence, it is safe to say that Doja and Jared gave some of the memorable and fun looks of the 2023 Met Gala.
Read More: The 10 Best-Dressed Male Celebrities At The 2023 Met Gala