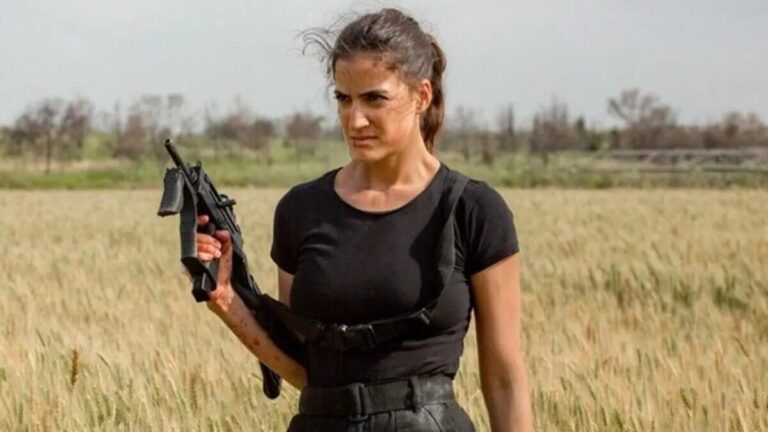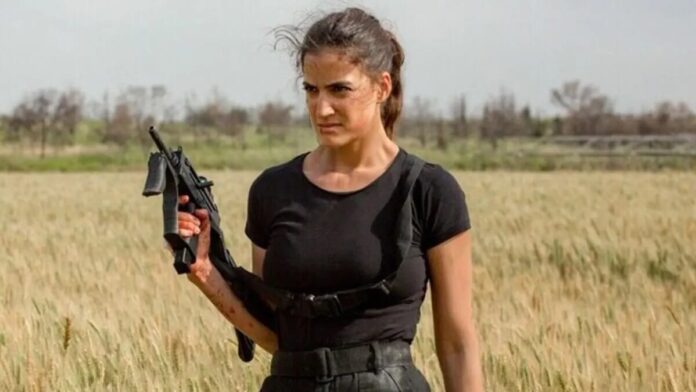 Rona-Lee Shimon is a 40-year-old Israeli actress famous for her role as the lead female cast, Nurit, in the television series 'Fauda'. She hails originally from Ramat Gan in Israel, her hometown. Her life started with a keen interest in dancing but it eventually led to acting as her professional career.
Apart from being an actress, she is also a model characterized by her beautiful aura. Her persona is such established, she always becomes the center of the limelight for whatever project she undertakes be it a short-timed cameo or in a squad filled with men.
Rona Lee-Shimon Facts
| | |
| --- | --- |
| Birth Place | Ramat Gan, Israel |
| Birth Date | January 9, 1983 |
| Age | 40 Years |
| Nationality | Israeli |
| Husband | None |
| Net Worth (2023) | $6 million |
| Occupation | Actress, Model, and singer |
| Star Sign | Capricorn |
| Height | 5 ft 9 inch |
| Weight | 58 kg |
Rona-Lee Shimon's Early Life
Born and brought up in an Israeli family, she was exposed to fine arts from a very young age which eventually helped in her career. At the tender age of three, she started ballet. The lessons made her fall in love with this form and she continued to learn. She became part of the Israeli dance troupe Bat Dor at just twelve years of age. The name of the troupe signifies charisma, expression, and understanding which was showcased in Shimon brilliantly.
Her early life was filled with expressive steps. She chose to pursue her career in dance instead of joining the defense forces of Israel. The dancers from Germany and east-European countries were her initial inspiration. Being stuck in a dilemma of losing her identity as a person and facing self-doubt, dancing helped her immensely in escaping the horrible situation.
Rona-Lee Shimon's Acting Career
Shimon's career is a perfect amalgamation of expressive dances and acting. As soon as she completed her schooling, the Royal Ballet Academy situated in Amsterdam was waiting to offer her a full scholarship during her course of college study. She began her career in dancing returning to her hometown. She was part of the show 'Born To Dance' which was the Israeli version of 'So You Think You Can Dance' in 2005.
It was then, she discovered her love for music and started singing. She appeared in many musicals and dance plays which included 'Our Song' in 2006 and 'West Side Story' in 2016. Some of her other works include 'Infiltration' (2010), 'A Quiet Hear' (2016), and roles in television series like 'Summer Break Diaries' (2012), 'Messiah' (2020).
Shimon's Big Breakthrough
Her acting career came to fruition when she was cast as Nurit in the Israeli action-thriller series 'Fauda' which later became a part of Netflix productions. She was the sole female in the group of men posing as an elite squad. Her role as a member of the elite counter-terrorism squad needed absolute fitness, expressive actions, and many more exhausting things that she was expected to do.
While preparing for Nurit's role, all the hard work and dedication made her an even better actress and she nailed her role as everybody praised her performance in 'Fauda'. From learning the art of Krav Maga to learning guns, she really bought out the character. She received immense admiration which led to her winning Israeli Academy Awards.
Family And Relationships
She was born into a Jewish family. She has two siblings, a brother, and a sister. It was her brother Almog who trained her in weaponry for her audition tapes. Her sister, Sivan Noam Shimon is also an actress.
With regard to her dating life, not much information is available in the public domain as she keeps her personal life very private. But there were rumors floating around of her being in a relationship with another actress named Ruby Rose. The decision of her to settle down is still ambiguous.
During a conversation with Ofira and Berkovich on 'Dancing with the Stars', where Rona-Lee serves as a judge, she shared that she longs for love. "I have to say that I have a very full life. I am a busy person and I enjoy my life. But I really want to fall in love and be loved," She added.
Rona-Lee Shimon's House
Rona-Lee Shimon currently lives alone in an Apartment in Tel Aviv. Just like her personality, her apartment is also full of colors, plants, and flowers. Shimon is fond of minimalist design and doesn't hang paintings or any sort of art on the wall. She likes to maintain a clean line of white on her walls.
Rona-Lee Shimon's Net Worth
Shimon is currently worth $6 million. A major part of her earnings come from her acting gig but her modeling career also forms a significant part of her net worth as she has been associated with many fashion houses like Dior, Idan Cohen, and many more.
FAQs about Rona-Lee Shimon
What are Rona-Lee Shimon's hobbies?
She enjoys Painting, Cycling, Horse riding, and Travelling.
Is Rona-Lee Shimon married?
There is no news in regard to her marriage.
What does Rona-Lee Shimon do besides acting?
She is a model as well as performs in theaters, especially in musicals.
Also Read: Inbar Lavi – Husband, Family, Kids, Career, House, And Net Worth