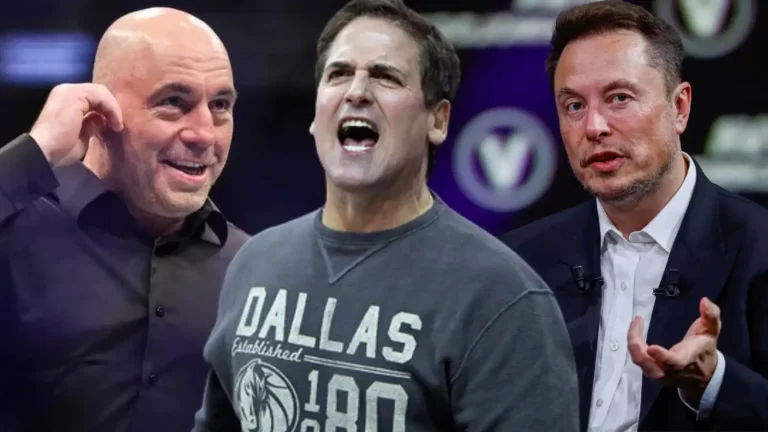 Mark Cuban is a powerful business tycoon who is best known for appearing as one of the judges and investors on the blockbuster American reality show 'Shark Tank'.
Usually, Mark tends to keep low-key about the business world happenings but recently, the billionaire got irked about a certain comment made by Elon Musk and Joe Rogan. So, what did Elon and Joe do that made Mark lose his cool?
Joe Rogan And Elon Musk Irritate Mark Cuban With Their Anti-Vax Tweets
Joe Rogan is a renowned media personality who is best known for being the charismatic host of his podcast show 'The Joe Rogan Experience'.
Recently, Joe Rogan challenged the skilled vaccine scientist Peter Hotez to enter into a debate with Robert F. Kennedy Jr. who is a firm anti-vaccine theorist in an upcoming interview on the podcast. Furthermore, Joe Rogan even used terms like monsters and heartless to condemn the entire healthcare system and researchers.
Peter, if you claim what RFKjr is saying is "misinformation" I am offering you $100,000.00 to the charity of your choice if you're willing to debate him on my show with no time limit. https://t.co/m0HxYek0GX

— Joe Rogan (@joerogan) June 17, 2023
Elon also replied with fire emojis to Joe Rogan's tweet challenging Peter Hotez along with a sarcastic comment, "Maybe Peter Hotez just hates charity."
Maybe @PeterHotez just hates charity 🤷‍♂️

— Elon Musk (@elonmusk) June 18, 2023
To add fire to the entire conversation, business magnate Elon Musk took to his Twitter handle to tweet (which was deleted later) "Hotez is afraid of a public debate because he knows he is wrong."

This behavior of Joe Rogan and Elon Musk generated an aggressive response from Mark Cuban in support of the scientist Peter Hotez.
Also Read: Elon Musk Catches Rude BBC Journalist Lying And Puts Him In His Place
What Was Mark's Response To The Whole Situation?
After looking into the whole situation, Mark Cuban called the entire thing to be a disrespectful act towards healthcare professionals. He asserted that without the pharmacy industry, people would never have been cured of any form of disease.
Addressing Joe Rogan, Mark further tweeted "You have producers that will prepare you and you get to control the conversation. Robert also has a staff ready to prepare him, and these topics are what he talks about in every speech. You both do this on a daily basis. Dr. Hotez works every day to try to find ways to help people."
Way to talk in generalities Joe. Not saying there aren't a lot of fucked up things about pharma. That's why we created https://t.co/jYSNkP7amr. But to ignore that the same industry has saved who knows how many lives is bullshit and you know it.
It's also disrespectful to all… https://t.co/bUawoBgbH6

— Mark Cuban (@mcuban) June 18, 2023
To make his point clear, Mark aimed at both Joe and Elon with the statement "Joe, you and Elon Musk are the mainstream online media and your platforms have become everything supposedly wrong with Mainstream media. You are driven by self-interest… And don't lie to yourselves and all of us and tell us you are different. You aren't."
Vaccine scientist Peter Hotez on his part has agreed to sit for an interview with Joe Rogan but not to engage in any kind of debate with Robert Kennedy.
After this, many people on Twitter started calling Elon Musk an anti-vaxxer. To clarify his stand on covid vaccines and to affirm that he actually pro-vaccine, Elone tweeted, "First of all, I am generally pro-vaccine. I have been vaccinated against pretty much everything, as have my kids. Second, I think there is tremendous promise in synthetic mRNA. It is like medicine going from analog to digital."
First of all, I am generally pro vaccine. I have been vaccinated against pretty much everything, as have my kids.

Second, I think there is tremendous promise in synthetic mRNA. It is like medicine going from analog to digital.

That said, the world obviously went crazy with… pic.twitter.com/lQkqY8uvgT

— Elon Musk (@elonmusk) June 18, 2023
Elon further elaborated his point, "That said, the world obviously went crazy with excess vaccination against "Covid-19". I have that in quotes because the RNA sequences changed so much that I called it the virus of Theseus."
Read More: Kerry Katona Recalls Her Traumatic 'This Morning' Interview As She Calls The Show Fake