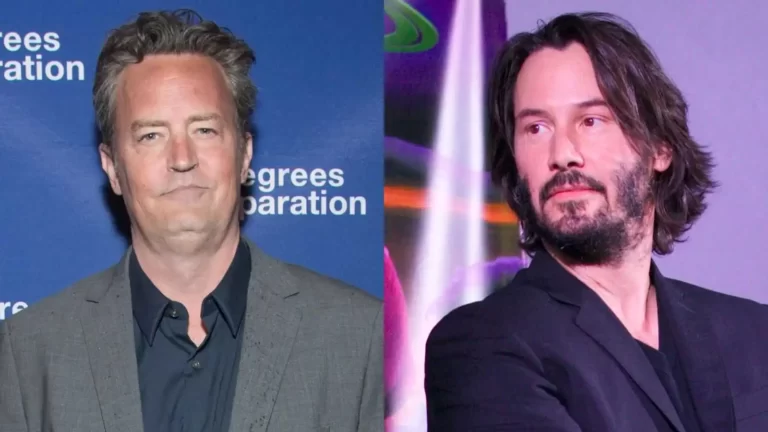 Matthew Perry is creating quite a noise for his upcoming memoir 'Friends, Lovers and the Big Terrible Thing'. The Friends actor has revealed so many new things about his life in the book that comes out on November 1.
Perry has talked about things from his addiction to his relationship with Julia Roberts and apparently, why he hates Keanu Reeves so much. Perry has wished death upon Reeves more than once in his new memoir. So, why does Matthew hates Keanu Reeves? Let's find out.
The Reason Behind Matthew Perry Hating Keanu Reeves
Talking about Reeves, Matthew writes in his memoir, "Why is it that the original thinkers like River Phoenix and Heath Ledger die, but Keanu Reeves still walks among us?" Apparently, Matthew worked with River Fox in his first self-made movie 'A Night in the Life of Jimmy Reardon,' in 1988. Perry played Phoenix's best friend in the movie and they both turned out to be good friends in the real life as well. Perry claimed in his book that the actor duo became close friends during filming in Chicago.
Matthew Perry goes on to write about the death of Phoenix from an overdose in 1993, "River was a beautiful man inside and out and too beautiful for this world, it turned out. It always seems to be the really talented guys who go down." Perry also talked about how he reacted to the death of his pal, adding, "I heard the screaming from my apartment; went back to bed; woke up to the news." This is not all, Perry also wished death upon Keanu in one more incident that took place in his life, Chris Farley's death.
Read More: Model Sumner Stroh Claims She Had An Extramarital Affair With Adam Levine
Why Matthew Wanted Keanu To Die In Place Of Chris Farley?
In his memoir, 'Friends, Lovers and the Big Terrible Thing,' Perry took another dig at Keanu in relation to Farley's death. Perry has signed 'Almost Heroes,' a 1988 comedy film that also starred Farley. This was during the time of Perry's peak addiction days and peak fame days as he was also starring as Chandler Bing on 'Friends'.
When Chris Farley, an 'SNL' star at that time, died of an overdose in 1997, Perry once again thought that it wasn't fair that his friend was gone but Reeves was still alive. The actor claimed, "I was flummoxed that Farley was gone but Keanu Reeves still walks among us. I punched a hole through Jennifer Aniston's dressing room wall when I found out."
Reeves and Perry have not worked together on any kind of project.
Read More: "Henry Cavil, Denzel Washington And John Krasinski" A Trusted Source Reveals That Marvel Is Hiring A Long List Of New Talent For Phase 5